Homemade Potato Soup Recipe w/ Spinach & Sausage
I'm not a big fan of potato soup or so I thought. When I was preggers I got a weird craving for it even though I'd never tasted a good recipe for it. I started playing around with a few recipes I found online until I got it just the way I wanted it and now…..I'm in LOVE!!!
As soon as the weather starts to get cooler (which is now!) I break out this potato soup recipe. I dare any potato soup lover/hater not to like it.
This potato soup is so comforting and flavorful. I mean seriously, can you really go wrong with smoked sausage, potatoes, spinach, onions and garlic????? All combined with creamy cream cheese, chicken broth and smokey spices to make a soup that is out of this world good! Always a pleaser at pot lucks (be prepared to give out the recipe or just direct them to my site! (smile)
I like to pair this up with buttered & toasted french bread and a big ol' green salad. Easy, quick, and comforting meal for those fall and winter evenings.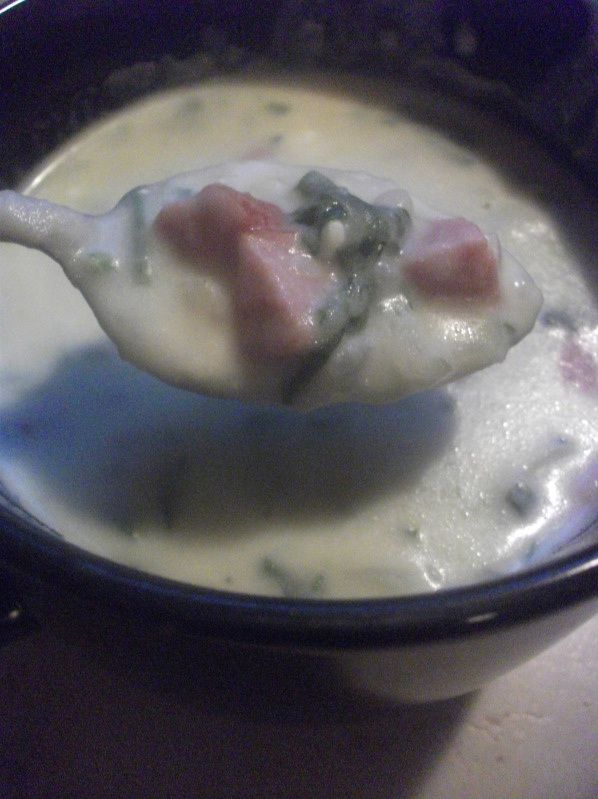 Creamy Sausage & Spinach Potato Soup
Watch me make this creamy spinach and sausage potato soup from start to finish!

Homemade Potato Soup Recipe w/ Spinach & Sausage
Author:
Serves: 4-6
Ingredients
4 russet potatoes
8 oz Smoked turkey dinner sausage
3 cups fresh baby spinach leaves
1/2 small white or yellow onion
2 gloves garlic
3 cups chicken broth
8 oz cream cheese, cubed
few dashes pepper
few dashes salt
few dashes of liquid smoke
few dashes of smoked paprika (regular paprika will work)
Instructions
Step 1.) Poke holes into potatoes with a fork and microwave for 20 minutes or until tender.
Step 2.) Dice up sausage, spinach, onion, & garlic.
Step 3.) Heat olive oil in large saucepan, add in chopped ingredients. Saute over med-high heat until tender. Set aside. Step 4.) Slice potatoes in half and spoon the insides into a pot. Mash until fluffy.
Step 5.) Add in broth and cream cheese. Stir over medium heat until cream cheese has melted.
Step 6.) Add in the sauteed ingredients.
Step 6.) Add in pepper, salt, liquid smoke and paprika.
Step 7.) Stir to combine. Enjoy!