Homemade Potato Soup Recipe w/ Spinach & Sausage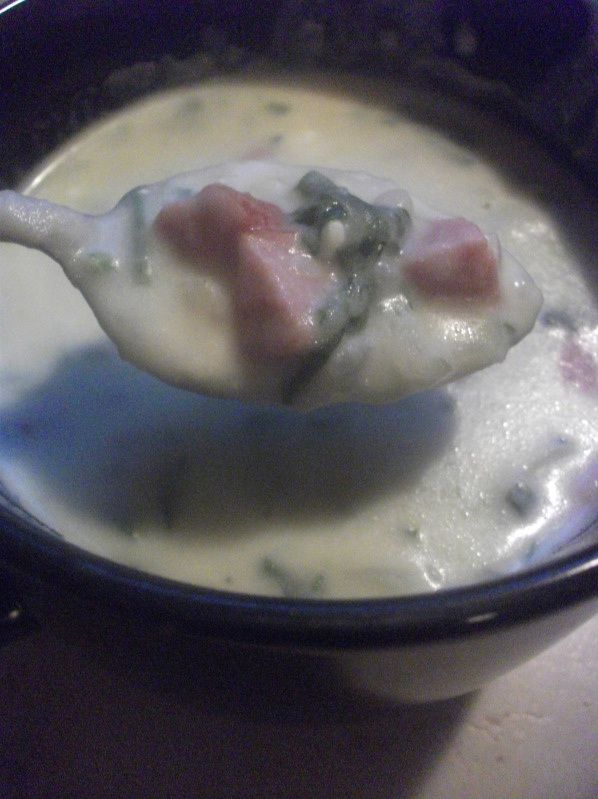 4 russet potatoes
8 oz Smoked turkey dinner sausage
3 cups fresh baby spinach leaves
½ small white or yellow onion
2 gloves garlic
3 cups chicken broth
8 oz cream cheese, cubed
few dashes pepper
few dashes salt
few dashes of liquid smoke
few dashes of smoked paprika (regular paprika will work)
Step 1.) Poke holes into potatoes with a fork and microwave for 20 minutes or until tender.
Step 2.) Dice up sausage, spinach, onion, & garlic.
Step 3.) Heat olive oil in large saucepan, add in chopped ingredients. Saute over med-high heat until tender. Set aside. Step 4.) Slice potatoes in half and spoon the insides into a pot. Mash until fluffy.
Step 5.) Add in broth and cream cheese. Stir over medium heat until cream cheese has melted.
Step 6.) Add in the sauteed ingredients.
Step 6.) Add in pepper, salt, liquid smoke and paprika.
Step 7.) Stir to combine. Enjoy!
Recipe by
Divas Can Cook
at https://divascancook.com/homemade-potato-soup-recipe/