It's pretty darn hard to find a salmon recipe that will please a crowd but this sweet n spicy honey baked salmon does the job every time! I've made it several times and even when I don't have all of the ingredients it still somehow manages to come out fabulous. Don't you just love a forgiving recipe?
This salmon is full flavored but has the perfect balance of being slightly sweet and slightly spicy, just the way we like it around here. Even my toddler can handle the kickof flavors.
Oh and don't you go letting all those ingredients scare you. It's a pretty simple recipe and so worth it in the end, you'll see.
Sweet n' Spicy Honey Baked Salmon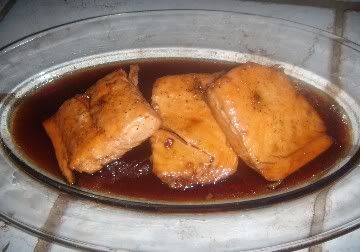 The Recipe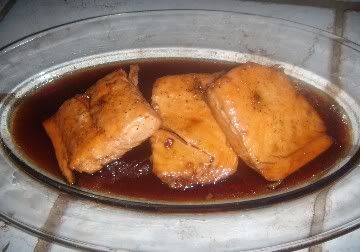 Sweet n' Spicy Honey Baked Salmon
By Divas Can Cook
Ingredients
½ c. honey
¼ c. soy sauce
2 T. brown sugar
2 T Pineapple juice (can also use orange/ apple juice)
1 T. lemon juice
1 T. distilled white vinegar
1 t. Olive oil
½ t. black pepper
¼ t. cayenne pepper
¼ t. paprika
⅛ t. garlic powder
2-4 Skinless, Salmon Fillets
Vegetable oil
Salt & pepper
Instructions
Preheat the oven to 400.
In a saucepan add: honey, soy sauce, brown sugar, pineapple juice, lemon juice, white distilled vinegar, olive oil, ground black pepper, cayenne pepper, paprika, & garlic powder
Stir to combine all ingredients
Bring to a boil, reduce heat and simmer for about 10 minutes.
Wash and pat dry salmon fillets and place in a foil lined pan.
Rub each fillet lightly with vegetable oil.
Sprinkle each fillet with salt and pepper
When the sauce is done simmering pour onto the fillets.
Put into the oven for 12-14 minutes or until fish flakes easily with a fork
Remove from oven and flip fish over.
Put back into the oven and BROIL for 1-2 minutes.
Remove from oven.
Place salmon in serving dish and spoon on some of that delicious sauce for dipping.